Paul's admonition in Hebrews is clear:
"Let your conversation be without covetousness; and be content with such things as ye have: for he hath said, I will never leave thee, nor forsake thee. So that we may boldly say, The Lord is my helper, and I will not fear what man shall do unto me" (Heb 13:5-6).
The command is to have our "conversation" or 'manner of life or character,' without "covetousness," that is, we are not to love money—the Greek word is a compound of philos ('love') and aguros ('money'). Instead, we are exhorted to be content and satisfied with what God has given us in store. Covetousness is faithlessness because God has promised not to leave or forsake us. God wants us to put our trust in Him and not worry, or brood about riches. He will not "leave" us, or as the word literally means, 'will not let us sink, or loosen His grip, or cease to uphold, or give up on us'. Neither will He "forsake" us by abandoning us or deserting us or leaving us in dire straits. We therefore need to have the bold courage to recognise that God is our "helper"—someone we can run to. This is the sentiment of the Proverbs where the two buildings are contrasted:
"The name of the Lord is a strong tower: The righteous runneth into it, and is safe. The rich man's wealth is his strong city, and as an high wall in his own conceit. Before destruction the heart of man is haughty, and before honour is humility." (Prov 18:10-12)
Trusting in ourselves is simply foolish pride and a recipe for disaster. If we trust in God, we will always be safe. How many people ran toward the twin trade towers during 9/11? They provided no safety at all. Yet these were the towers (figuratively) that so many placed their trust in. When a real crisis came, nobody wanted to be anywhere near them. Our Father's house is always a place of safety and security.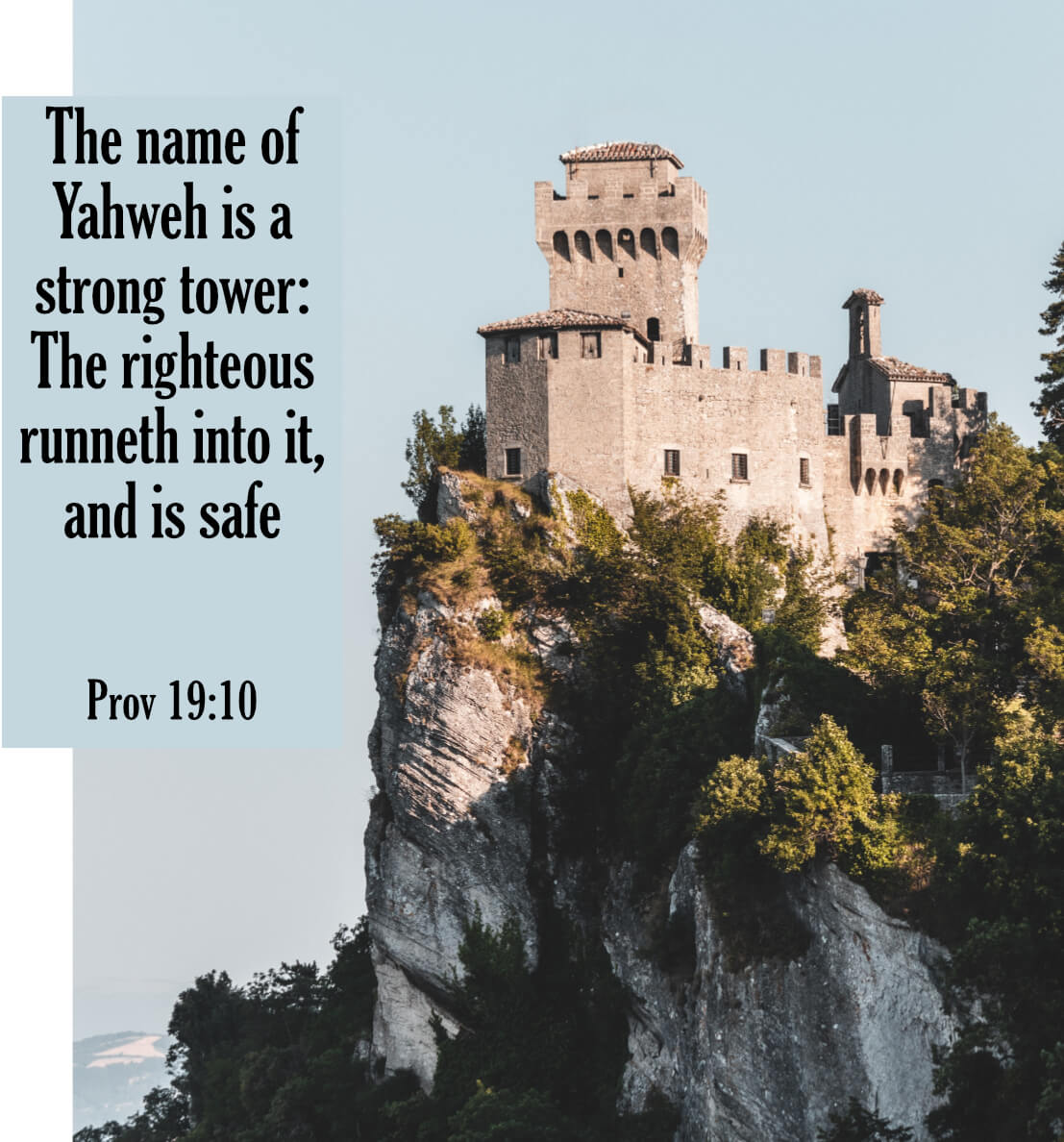 Where do we place our trust?
God wants us to put our trust in Him above all else. Not just in lip service, but to place our confidence in His ability to provide for us, and therefore not squander all our energies in pursuing wealth. We think our own might, intuition, training and education, business acumen, or business schemes will bring us riches. The reality is that all riches come from God. We are deceiving ourselves if we think we are 'providing for ourselves' in our own strength. This is simply a display of arrogance. Our trust in God is what is on trial:
"The Lord hear thee in the day of trouble; the name of the God of Jacob defend thee; Send thee help from the sanctuary, and strengthen thee out of Zion; Remember all thy offerings, and accept thy burnt sacrifice; Selah. Grant thee according to thine own heart, and fulfil all thy counsel." (Psa 20:1-4)
The Psalmist asks God to hear and respond in time of distress and vexation. Do we believe that God will respond to our prayers when we are in trouble? This is the challenge: to believe the name of the God of Jacob can "defend" us—the Hebrew word means 'to set inaccessibly high' so that we are 'secure and untouchable'. Do we believe that God will "send" help by extending aid from His sanctuary in this day and age? Or do we believe that God is unable to intervene in the events of our lives? Can He really "strengthen" us; literally support and sustain us out of Zion today? Or is God dead to His people and One who will not make good on His promises? It is a question of faith and where we put our trust as the Psalmist continues to say:
"We will rejoice in thy salvation, and in the name of our God we will set up our banners: The Lord fulfil all thy petitions. Now know I that the Lord saveth his anointed; he will hear him from his holy heaven with the saving strength of his right hand." (Psa 20:5-6)
The Psalmist states where his confidence is—where is ours? In our moment of need will we really cry out and shout for joy in the deliverance and victory of God? We are challenged to "set up our banners" in the name of God and rally around Him for protection. Do we believe that God can fulfill all our requests? Can He really save and deliver victory to His anointed ones? It is a fundamental question of belief whether God will hear from heaven. Do we believe He answers us today? Do we believe He can rescue us today with His saving strength? Our answer to this question is demonstrated by where we place our trust:
"Some trust in chariots, and some in horses: but we will remember the name of the Lord our God. They are brought down and fallen: but we are risen, and stand upright. Save, Lord: let the king hear us when we call." (Psa 20:7-9)
Today, the challenge is the same, but comes in a different form. Some trust in their education and the number of letters behind their name to secure employment for them; some trust in corporations to provide solid financial futures; some trust in retirement savings funds to provide for their future; or trust in the stock markets to make them wealth; others trust in their business prowess and skill. Where do we put our trust? Will we remember by calling to mind the name of Yahweh our God in all our planning for the future? Does He figure into our plans? Those who trust in chariots and horses will be "brought down and fallen". The original is quite graphic. They will be caused to 'kneel down in reverence,' and 'be cast down, to fall prostrate, to waste away'.
In contrast, the faithful who trust in God will be caused to rise—a clear reference to the resurrection—and will stand upright—the Hebrew means 'to be restored' referring to the change to immortality.
Trusting in ourselves
The world around us often admires 'self-made men,' and extols 'self-confidence,' while the Bible offers a completely different perspective. Consider the basis of the parable of the Pharisee and the publican in Luke 18:9-14. It was given because of "certain which trusted in themselves that they were righteous, and despised others".
These men were confident in their own righteousness and, worse, they viewed others as being of no account. There is a great danger in trusting or placing confidence in our own abilities. This is what the world extols, but the Bible clearly condemns this train of thought:
"Thus saith the Lord; Cursed be the man that trusteth in man, and maketh flesh his arm, and whose heart departeth from the Lord. For he shall be like the heath in the desert, and shall not see when good cometh; but shall inhabit the parched places in the wilderness, in a salt land and not inhabited. Blessed is the man that trusteth in the Lord, and whose hope the Lord is. For he shall be as a tree planted by the waters, and that spreadeth out her roots by the river, and shall not see when heat cometh, but her leaf shall be green; and shall not be careful in the year of drought, neither shall cease from yielding fruit." (Jer 17:5-8)
There is a great danger in trusting and having confidence in ourselves. Flesh will fail us, especially our own flesh, and will deceive us into departing from our God. If we put our trust in ourselves we are like a "heath" in the desert—the Hebrew refers to a shrub that is like a tumbleweed. It has no roots and when dryness comes it breaks off and rolls about in the winds. Conversely, if we put our trust in our God, we will be like a deeply rooted tree that will weather any drought. If we trust in ourselves our resources will run out because they are shallow, but if we place our trust in our God, our resources are infinite because He is the Creator of all things.