This is the third article on "Fellowship" which will outline the scriptural essentials relating to the important matter of biblical fellowship. The first article dealt with the framework of what is entailed in biblical fellowship and the importance of the Statement of Faith on this subject. The second article examined the New Testament warnings against error, and how this impacts fellowship practice. This third article will address the alternative views of those who teach "open" fellowship.
"The Open Christ: An Argument for Openness"
This is the title of Brother Duncan Heaster's book arguing for an open fellowship. His first sentence declares: "I lay down a challenge in this book: Of a totally open table and a willingness to baptize whosoever will into Christ."
Although Brother Duncan argues his case spiritedly, and with copious reference to Scripture, we believe his views are mistaken, while yet challenging us to consider carefully the position on fellowship we rightly maintain.
What does an "Open Christ" involve?
Brother Duncan sets out his views bluntly, and relatively clearly. Under a major heading: 5 Baptism and Fellowship he has a sub heading, Defining the Body. Consider some of his statements under this heading:
"The New Testament evidence is conclusive that candidates for baptism did not know any detailed theology, they had simply been convicted of their sins and need for Christ, had heard the good news of His perfect life lived for them, His death and resurrection for them, His coming again for them, and simply desired to associate themselves permanently with Him and His cause through baptism."
"We simply don't have direct, specific Biblical guidelines about what theology is acceptable and what isn't, in terms of making baptism valid."
"Perceive all those baptised (by adult immersion) into Christ as fellow Christians and therefore 'in Christ'."
"Practice a totally open communion table, inviting all present to partake."
We will review some of Brother Duncan's further comments and scriptural references as he attempts to validate the assertions noted above. In particular we want to examine the examples he gives of baptism in the Acts record; error "tolerated" in the first century; the teaching of the gospels; and what he terms Christ's "open table" and his "table manners" in the gospels. We note, in passing, that these expressions are not scriptural terms.
Baptism – it's just quick and easy. Or is it?
Brother Duncan's thesis is that baptism into Christ is pretty much for all who want it, with scant knowledge of biblical doctrine required. He makes the point, as others have, that Scripture does not produce a clear list or summary of doctrines essential to be believed. Yet the concept in the New Testament of doctrines essential for salvation was certainly not unfamiliar to the apostles and first century believers.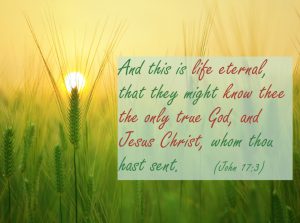 Take one example in the negative. The circumstances of Acts 15:1 triggered the Jerusalem Conference: "Then certain men which came down from Judea taught the brethren, and said, Except ye be circumcised after the manner of Moses ye cannot be saved." Much discussion ensued, and Peter declared, "But we believe that through the grace of the Lord Jesus Christ we shall be saved, even as they." So here is teaching we can identify as essential to salvation. Our Lord himself provides another, declaring in John 17:3,"This is life eternal, that they might know thee the only true God, and Jesus Christ, whom thou hast sent." So life eternal is bound up in knowing the nature of God, the nature of Jesus Christ and not, incidentally, that there is only "one true God". Surely, too, the corollary holds true – those who do not know these essentials may not look to "life eternal". So, just a swift glance at two passages has given us four teachings that are essential to salvation and life eternal.
Brother Duncan considers that the baptisms recorded in the record of Acts support his view that baptism requires no real knowledge of scriptural doctrine etc, as noted above. He states: "…the Lord's table is intended to be open to all (we would add: after understanding, belief and baptism), so baptism into him is likewise to be open to all who so desire to associate with him in this way. It is not for us to stand in the way…" It is scarcely "standing in the way" to require a good basic understanding of the gospel before someone submits to baptism into Christ. So let us consider some of the examples Brother Duncan puts forward from the Acts record.
Baptisms in The Acts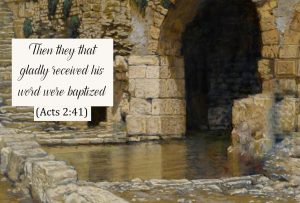 Multitudes at Pentecost (about three thousand) – Acts 2
Of these Brother Duncan says that they "clearly heard Peter's preaching over a period of at most only a few hours. …There is no evidence that each of those people gave a theological statement of their understanding."
Let us note firstly to whom Peter, in Acts 2, addressed his speech. Verse 5 tells us that "there were dwelling at Jerusalem Jews, devout men, out of every nation under heaven." When Peter stood up "with the eleven", he addressed, "Ye men of Judea, and all ye that dwell at Jerusalem" (v14). So this devout audience had knowledge of the Old Testament Scripture, including the Abrahamic covenant, the Law of Moses and promises of the Messiah to come. Peter proceeded to prove to the listening crowd that Jesus of Nazareth was indeed the promised Messiah; that he was God's "Holy One", crucified, but raised by God (v24) to sit on David's throne (v30-36). Along the way he also demonstrated that man was mortal, and did not have an immortal soul that went into the heavens (v29,34)—perhaps another element we can add to a first century statement of faith.
Peter's detailed teaching had a dramatic effect, resulting in huge numbers seeking salvation and then submitting to baptism after Peter "with many other words did…testify and exhort, saying, Save yourselves from this untoward generation" (v40). Perhaps his "many other words" were after the pattern of our Lord with the two on the road to Emmaus when "beginning at Moses and all the prophets, he expounded unto them in all the scriptures the things concerning himself " (Luke 24:25-27).
Brother Duncan assures us,"There is no evidence that each of these people (the 3000 at Pentecost) gave a theological statement of their understanding." But that is not true. Verses 41-42 tells us that they "gladly received his word" and "continued stedfastly in the apostles' doctrine." This means that the word Peter preached was classified as teaching and instruction and this doctrine was consistently shared and taught by all the apostles. It should be noted too, that the record does not say that they were baptised immediately after listening to Peter's speech. It only says that the baptisms all occurred on the same day. It is likely that most of the morning was taken up with Peter's exposition (v15) leaving the rest of the day for further discussion amongst the spirit-filled apostles and then the baptisms were arranged for a subsequent day. Be that as it may, their understanding was based upon the doctrine of all the apostles and this formed the basis of their association together.
The Samaritans – Acts 8
On this record, Brother Duncan confidently asserts, "When the Samaritans believe the things Philip preached, they were immediately baptized (Acts 8:12). Baptism is seen as part and parcel of belief…. ( Jesus) too put baptism as part of initial belief in the news about Him."
It seems to be a bit of a stretch to say that "they were immediately baptized". For example, Ellicott comments on that expression as follows: "The tense points, not to one great act, but to the continual succession of converts who were thus admitted." Before we accept this thesis about baptism being performed with alacrity following some rudimentary teaching or knowledge, there is a context to consider.
It is difficult to imagine Philip going initially to any other city in the region of Samaria than to Sychar, the city of Samaria where Jesus had discoursed with "a woman of Samaria" and then with the men of the city with whom he discussed Scripture for two days after they "besought him that he would tarry with them" (John 4:6-7; 39-43). Two full days in extensive discussion with the Son of God – after which, all they could say was, "Now we believe, not because of thy (the woman's) saying: for we have heard him ourselves, and know that this is indeed the Christ, the Saviour of the world" (John 4:42). In the Acts 8 record, before we get to verse 8, we need to review verses 5-8. Philip, fleeing the persecution taking place in Jerusalem, came to (in our view) Sychar in Samaria "and preached Christ unto them". Then, "When the crowds heard Philip and saw the signs he performed, they all paid close attention to what he said" (Acts 8:6 NIV). The works of healing that Philip performed are outlined in verse 7, as he "went forth, and preached…the Lord working with (him) and confirming the word with signs following" (Mark 16:20).
The result of all this preaching and healing activity was that "there was great joy in that city" (Acts 8:8). Verse 12 indicates that the people had reached a level of belief in the gospel message, with its elements of "the things concerning the kingdom of God" (on earth, with Christ as king and the saints, having been judged worthy, as king priests in divine nature), "and the name of Jesus Christ" (God's work of atonement in his Son, including his sacrifice, death and resurrection). Following that belief, and their repentant response "they were baptised, both men and women."
The record does not portray instant baptism for those with only a cursory knowledge – quite the opposite. In fact, it is our view that careful consideration of the baptisms in Acts supports our common approach of requiring a good basic knowledge of the key doctrines of Scripture prior to baptising any individual into Christ. Adult baptism, which is the scriptural example, implies the need for mature acceptance of the doctrines on which faith is developed and made strong.
Sharing fellowship with those in error – Corinth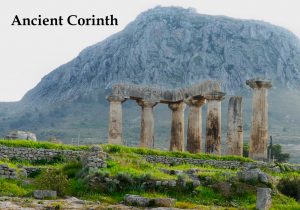 Brother Duncan argues that we are to have our memorial meeting as an "open table" available to all who wish to participate, regardless of their beliefs, which can be sorted out later. Among other things, one of the reasons Brother Duncan gives for this view is the example of the ecclesia at Corinth in which all sorts of errors were tolerated, while the ecclesia continued to fellowship with those promulgating the error. There was the matter of ecclesial factions (1 Cor 1), serious moral failing (1 Cor 5), misuse of spirit gifts (1 Cor 12) and denial of the resurrection (1 Cor 15).
How did the apostle deal with these matters? He certainly did not advocate any facile "go along to get along" attitude. Hear his response to the schismatics: "Now I beseech you brethren, by the name of our Lord Jesus Christ [not Cephas or Paul or Apollos), that ye all speak the same thing, and that there be no divisions [Gk: schismata] among you; but that ye be perfectly joined together in the same mind, and in the same judgment." This is not the language of accommodation, but a stern directive to fix the problem. In fact the expression translated "perfectly joined together" occurs in Matthew 4:21 and Mark1:19 where we find James and John in the ship "mending their nets". The apostle says in effect, you Corinthians have torn the ecclesia and you need to mend it.
What of the matter of rejection of the resurrection? Let us observe first of all, that this did not involve some individual 'doubting the doctrine but sitting quietly in the back seat'. Note 1 Corinthians 15:12, "how say some among you that there is no resurrection of the dead?" A vocal group was openly advocating not just for wrong doctrine, but for a view that was catastrophic to faith. Paul had no alternative but to forcefully point out the consequences of non-belief: "if there be no resurrection of the dead, then is Christ not risen: And if Christ be not risen, then is our preaching vain, and your faith is also vain. Yea, and we are found false witnesses of God" (v13-19). Paul just doesn't seem to be showing much of an ecumenical "open table" spirit. Amos 3:3 says, "Can two walk together, except they be agreed?"
What possible outcome could there be in Corinth for both schismatics and the no-resurrection group, if they did not fall into line, but withdrawal of fellowship? This is the point Paul made in 1 Corinthians 5 following the incident of immoral behaviour. He counselled the ecclesia "to deliver such an one to Satan;" to "purge out therefore the old leaven;" to have "no company with fornicators," and "not to keep company, if any man that is called a brother be a fornicator, or covetous, or an idolater, or a railer, or a drunkard, or an extortioner; with such an one no not to eat" (v5,7,9,11).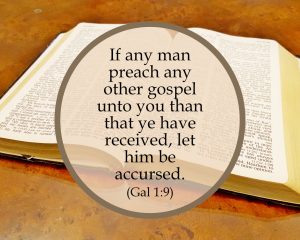 Paul did not just welcome all comers – he set those in error straight; very firmly. To the Galatians he declared: "I marvel that ye are so soon removed from him that called you into the grace of Christ unto another gospel: Which is not another; but there be some that trouble you, and would pervert the gospel of Christ. But though we, or an angel from heaven, preach any other gospel unto you than that which we have preached unto you, let him be accursed" (Gal 1:6-9). The implications for us today are pretty clear.
The gospel and the Gospels
Brother Duncan suggests that the early believers from Pentecost and for some time after, did not have available to them the epistles of Paul etc with their detailed doctrinal exposition, and that therefore at baptism they did not need to have knowledge of substantial doctrinal detail in order to be baptised. If we ask, "What is the gospel?" then Brother Duncan tells us, the answer is the Gospels. The Gospels tell us about Jesus and he was concerned with telling us how to live a godly life, not necessarily leaving us a comprehensive Statement of Faith. There is no doubt that the Lord spoke of godly living. For example when Jesus talks about the judgment seat, he indicates that he is concerned, very largely, with how we deal with our brothers and sisters, particularly when they are in need (Matt 25:31-46). But perhaps we can dig a little deeper. The first succinct definition of "the gospel" that many of us were taught is in Acts 8:12: "the things concerning the kingdom of God, and the name of Jesus Christ." In the gospels, Jesus spoke much about these topics, and other doctrinal matters—although, we must say, we feel uncomfortable dividing up the teaching of Christ, except perhaps for convenience of consideration.
Some of the doctrinal teachings of Christ and the Gospels, together with the very early chapters of Acts are:
There is only one true God (John 17:3)
It is life eternal to have a proper understanding of God (John 17:3)
It is life eternal to have a proper understanding of Jesus Christ, whom God sent (John 17:3)
Jesus is God's son (Matt 2:15; 3:17; 16:16; John 11:27)
His purpose is to save his people from their sins (Matt 1:21; John 4:42)
The Father wants all his "little ones" saved (Matt 18:14)
Jesus came not to call "the righteous, but sinners to repentance" (Matt 9:13; Mark 2:17; Luke 5:32)
Jesus will be betrayed, crucified and rise again to save men (Matt 20:18-19, 28; 28:1-7; John 10:14-15; Acts 2:27-36)
Jesus is the King of the Jews (Matt 2:2; 21:5)
The faithful will sit with Abraham, Isaac and Jacob in the kingdom (Matt 8:11)
Gentiles will also be in the kingdom, the Ninevites and the Queen of Sheba among them (Matt 12:21,41-42)
He will sit on a throne of glory in the kingdom (Matt 19:28)
There will be a day of judgment (Matt 11:22)
Our words will play a part in the judgment (Matt 12:36-37)
Jesus will be the Judge (John 5:22,29-30)
He will raise the dead (John 5:28; 6:39-40,44,54)
He is the resurrection and the life (John 11:24-27)
He would ascend to heaven, and come again (John 14:1-3; Acts 1:11)
He will restore the kingdom of Israel on earth (Acts 1:3,6-7)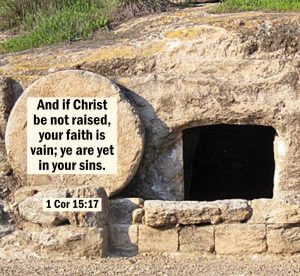 Just this brief, incomplete listing makes it clear that the Lord's teaching in the Gospels concerned the same teaching, about the kingdom of God and his name, which the apostles taught. And we would expect that, in broad outline, such would be part of the saving truth to be known and believed by those who came to Christ and were baptised in the early days and years of the Acts record.
Jesus – eating with the poor, the sick and the sinners
Jesus ate with publicans and sinners and was castigated for it. His intent was to save sinners. He set out to use these occasions as preaching and teaching opportunities to call men to him. We ought to follow his example. Brother Duncan writes at length of these circumstances. But in our view he takes his insights and exposition a step too far by suggesting that these circumstances, what he calls the "open table" and the "table manners" of Jesus, should become our template for an "open table" at our Memorial meeting. Time and space will not let us deal with all his examples here, but we shall do so in later articles, God willing.
Fellowship at the Breaking of Bread
The Christadelphian magazine, in December 2008, published an excellent article by Brother Michael Owen headed, "Fellowship at the Breaking of Bread". Many of his comments are very appropriate to the issues we face with regard to what, we are sure, are the mistaken teachings of Brother Duncan Heaster and the so-called "open table" he advocates.
Brother Owen writes, "Paul referred to the fact that the Roman believers (some of whom first heard the Gospel on the Day of Pentecost – Acts 2:10), had been baptized after obeying a "standard of teaching." 'Thanks be to God, that you who were once slaves of sin have become obedient from the heart to the standard of teaching to which you were committed' (Rom 6:17 ESV )."
Brother Owen continues: "The requirement for knowledge, understanding and belief before baptism is found throughout the Acts. When people were baptized into the name of the Lord Jesus Christ, they were not merely plunged in water or sprinkled, baptism was the answer of a good conscience (1 Pet 3:21 AV ). It had no meaning unless people received the word and understood it, as the Parable of the Sower makes clear (Matt 13:23).
Only those who heard and believed the gospel message that Paul taught in Corinth were baptised (see Acts 18:8).These then were the ones who broke bread together, as had happened on the Day of Pentecost and subsequently. There is no evidence in the New Testament that people were allowed to break bread unconditionally. It would not make sense and would be a violation of the idea of believers being "of one mind" (Phil 2:1,2)."
With these comments of Brother Michael Owen, we heartily concur. This is no "closed table"; it is simply "the Lord's table". Those who wish to meet there may do so by hearing the Word, believing it and being baptised into the name of our Lord Jesus Christ, "the Son of man [who] came not to be ministered unto, but to minister, and to give his life a ransom for many" (Matt 20:28).