This was the title of a BBC news piece written by Yolande Knell on 6 November 2018. The article read as follows:
"Israel's leaders often refer to their country being in a "tough neighbourhood" but recently there have been some extraordinary signs of friendliness with parts of the Arab world.
Late last month, the Israeli Prime Minister, Benjamin Netanyahu and his wife met the Sultan of Oman on a surprise, eight-hour visit—the first of its kind in over two decades.
There was a lavish dinner, traditional Omani music and what Mr Netanyahu told his Cabinet were "very important talks", promising more trips would follow.
Sure enough, by the time he was speaking, Israel's Sports and Culture Minister, Miri Regev, was at an international judo contest in Abu Dhabi, capital of the United Arab Emirates (UAE).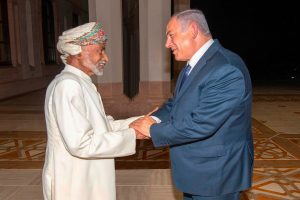 She wept with joy when an Israeli athlete took a gold medal and the Israeli national anthem was played—something unprecedented on the Arabian Peninsula.
Later, another Israeli official talked about "peace and security", at an event in the Arab emirate of Dubai. Now, the transportation minister is in the Omani capital, Muscat, proposing a railway between Israel and Arab countries.
All this despite the fact that Israel has no official diplomatic relations with Oman or the UAE.
Like much of the Arab world, they have historically shunned the state which was created in 1948, leading to the first in a series of Arab-Israeli wars.
"These visits are extremely important because they're really melting the ice," says former Israeli diplomat, Dore Gold, who sees that "symbolism is the key element".
The main reason is a shared concern over Iran. Israel, like many Gulf Arab countries, worries about Iran's ambitions and sees it as a destabilising force in the Middle East.
Tehran has been directly involved in conflicts in Syria and Iraq, and supports rebels fighting in Yemen and militant groups such as Hezbollah in Lebanon and Palestinian Islamic Jihad.
The Trump administration—which also seeks to contain Iran—strongly supports closer ties between US allies in the Gulf and Israel."
In a speech he delivered at the IISS Manama Dialogue security summit in Bahrain, Omani Foreign Minister Yousuf bin Alawi said, "Israel is a state present in the region, and we all understand this. The world is also aware of this and maybe it is time for Israel to be treated the same [as other states] and to also bear the same obligations".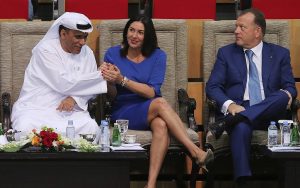 "The spectacle of Miri Regev singing "HaTikva", which describes the Jewish yearning for a homeland in Zion, was just one in a series of taboo-busting public appearances by Israeli officials in Gulf Arab states that have thrust the once-secret back channels of outreach into public view."