These four watch-words of encouragement are found in some of the final verses of Jude's epistle. He writes: "But ye, beloved, building up yourselves on your most holy faith, praying in the Holy Spirit, keep yourselves in the love of God, looking for the mercy of our Lord Jesus Christ unto eternal life" (v20-21).
They appear after some very sobering words about the condition of the ecclesial world in his day. It was a time when there were murmurers, complainers, mockers and boastful brethren within the ecclesial fold (v16- 19) and Jude found it necessary to imbue a different spirit within those who were earnestly contending for the faith once delivered to the saints.
He addressed these faithful brethren and sisters as 'beloved.' They were beloved of God and their love for the Truth and each other was in significant contrast to those who had crept in unawares with the intent of denying the only Lord God and His Son (v4).
His first counsel was to encourage them to build themselves up. This is the language of construction; indeed, Jude's whole family knew a great deal about carpentry and building. But he wasn't asking them to focus on building others, although this is an important part of our service (Rom 14:19). He was asking them to shore up their own defences, to build their own reserves, to build further upon their own faith. Sometimes we find ourselves in need of doing just this. Life can become very busy and complex and sometimes all this activity results in our faith crumbling a bit, exposing holes in the walls of our defences and rusting out the vital hinges of our understanding.
As Jude suggests, we sometimes need to build ourselves up with a dose of spiritual maintenance. This may mean reading our Bibles more regularly, or reflecting on the Truth more consistently, or reaffirming our foundation principles more fervently, or drawing more closely to God in prayer. If our life in Christ is not in good repair we are going to find it more difficult to help others who have a greater need than ourselves.
Jude describes the foundation upon which we need to build as 'our most holy faith.' In v3 he styled it 'the faith', but here he calls it 'our most holy faith.' It is precious and it is distinctly unique. Sometimes we fail to appreciate just how blessed we are to have received the truth of the gospel in its beauty and clarity. Jude is asking us to recall the superlative greatness of the things we have believed in and use that same foundation as the platform for our work of spiritual renewal and renovation (cp Acts 20:32, 1 Cor 3:10, Col 2:7). Any other foundation will be like quicksand.
The exhortation to build is followed by a call to pray and then to watch. This language is reminiscent of the example of Nehemiah when he recorded these words: "we made our prayer unto our God, and set a watch against them day and night" (Neh 4:9). We know that Jude has this general time frame in mind because in v9 and v23 of his epistle he alludes to the incident when the Samaritans opposed the building of the walls of Jerusalem in the days of the returning exiles (Zech 3:1-2, Ezra 3-4). Both Ezra and Nehemiah faced times of great turmoil both from within and without and their recourse to building, praying and watching are wonderful examples from which we can learn a great deal.
Now when Jude encourages us to "pray in the Holy Spirit" it should be noted that there is no definite article in the Greek; hence Rotherham and the Diaglott render it this way: "in holy spirit praying." If the foundation is holy, then so too must be all our prayers. It needs to be offered with a holy disposition; a frame of mind that is uncluttered with the staining pollutions of this world. When Jude encourages us to build ourselves up he is telling us that it cannot be done without the power of genuine, dependent prayer.
Holy prayer is another way of describing our approach before God "with a true heart in full assurance of faith, having our hearts sprinkled from an evil conscience" (Heb 10:22). It is a life of petition which is offered with "holy hands", that is, with a life full of faithful fruit dedicated to God's service (1 Tim 2:8). Without that sincerity and purity of heart we will not be able to worship our God "in the beauty of holiness" (Ps 29:2, 96:9).
Another integral part of this spiritual renewal, Jude tells us, is to "keep yourselves in the love of God" (v21). The Greek word, tereo means to attend to carefully, to take care of or to guard. It is the language of the watchman or the gatekeeper or the soldier on guard duty; and once more it is counsel that is specifically for "ourselves." This demands inward introspection and scrutiny; to be on guard against influences that can take us away from the love of God. Jude is asking us to examine whether we are in the walls of God's love and to take steps to continue in that love.
We cannot afford to let that love grow cold as a result of sometimes disheartening effects of personal and ecclesial difficulties. It has to be kept alive. The Lord said in John 14:15: "If ye love me, keep (tereo) my commandments." He went on to say in v23: "If a man love me, he will keep (tereo) my words: and my Father will love him, and we will come unto him, and make our abode with him." Again in 15:10: "If ye keep (tereo) my commandments, ye shall abide in my love; even as I have kept my Father's commandments, and abide in his love."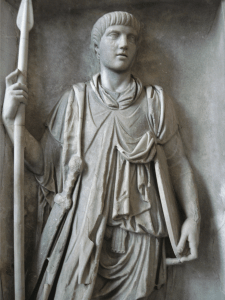 Guarding and attending carefully to the words of our Master ensures that we are abiding in his love and this is how we can keep ourselves in the love of God. When those words are neglected we step outside the boundaries and circle of that love.
After we have been encouraged to build, pray and guard, Jude then adds a final word of exhortation – we also need to be "…looking for the mercy of our Lord Jesus Christ unto eternal life" (v21). We strengthen the foundation; we pray for help; we guard the work and words of our Lord. And now we are asked to stand on those walls and embrace the responsibility of watchmen. The Greek word for "looking" carries the idea of waiting and expecting; something which goes a step further than just looking. We entertain a hopeful expectation – the bestowal of eternal life through the mercy of our Lord Jesus Christ.
How keen then should our gaze be! How strong should our hope be! If we knew that someone was soon to arrive bringing with them the greatest gift we could ever imagine, don't you think that we would eagerly await that arrival? I'm sure we would. Well that same fervency needs to be part of our life in Christ as we await our Lord's return. In eagerly waiting for that day we join the company of Simeon "waiting for the consolation of Israel" (Luke2:25), of Anna "looked for redemption in Jerusalem" (Luke 2:38) and of Joseph "who also himself waited for the kingdom of God" (Luke 23:51). We need to be "like unto men that wait for their lord" (Luke 12:36).
May these words of Jude continue with us as we build, pray, guard and wait, realising that as we labour, we do so in God's strength looking for His mercy and kindness in that day of approval.